Bevlyn's thoughts: Two Less Lonely People In The World

It's very easy to see how we have two very caring persons who love each other deeply. As the 'middle-man', Joan informed me a few days before the dinner about a surprise she had specially done up for Adrian; Adrian on the other hand informed me on the day itself his surprise for Joan. No wonder they're made for each other. Here's how it goes: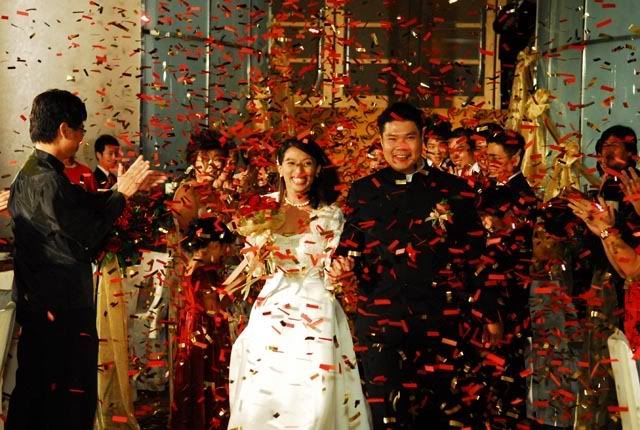 Joan had secretly done up an animation which showed how Adrian and her got together. What surprised me was that Adrian's contracting SARS earlier actually helped them to foster the relationship. I leaned over to Hsin Yeow to tell him they are the second couple whom we know got the best out of the SARS situation back in 2003. The first was Raja & Sin Hwee.

Of course Adrian was thrown off by this event not in the piece of programme he had passed to me earlier on, but all smiles were on his face while the animation played.

The second surprise of the evening was however not by Joan. It was initiated by the bridesmaid Pauline, who had learnt from a TV show that it is symbolic to mouth-pick and eat a bundle of 9 cherries hung in suspension - apparently the couple will hence cherish the relationship even more. Who would have figured that!

The 3rd surprise of the evening had to do with the date 30 October - it was Joan's birthday! Adrian had conspired with Fullerton's staff to roll out a cake in celebration of her and a little boy Nicholas' birthday. The band was more than happy to initiate the birthday song and everybody clapped and sang in unison. Adrian then whipped out a bling-bling-bling necklace (extra bling because it was extra big and bright from my angle) in a box as a gift to Joan. When she received the gift from Adrian, a brilliant display of pyrotechnics lighted everybody's eyes to bring the celebration to another high.

Incidentally, we met Willy from Live! Studios again!

All photographs in this entry were taken by the talented team behind Live! Studios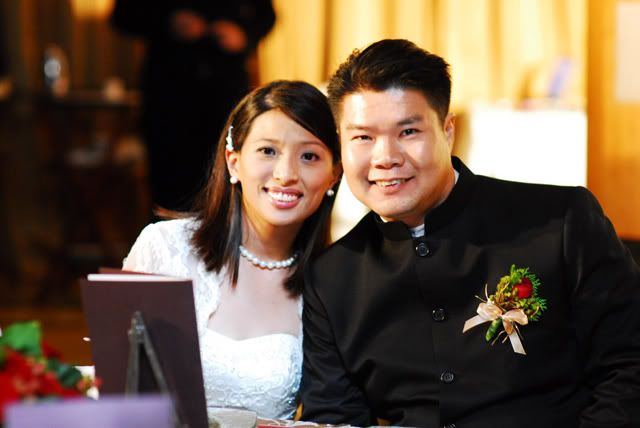 Spot the difference in Joan between the picture above and the picture below:




Yes, she CUT HER HAIR before the 2nd march-in! How much more gungho can you be than this!



(Psst! Take a look at Live! Studios' blog entry for photographs of Adrian and Joan's solemnisation inside the DHL hot air balloon!)


Band: Bevlyn, Hsin Yeow, Jonathan Ang, Jonathan Lim


Repertoire:

Through The Years (1st march), La Vie En Rose (1st dish), Tonight I Celebrate My Love, Fallen, You Are The Sunshine Of My Life, L-O-V-E, You Belong To Me, Can't Take My Eyes Off You, I Only Want To Be With You, Something Stupid, I Want To Make It With You, Have I Told You Lately

Every Day I Love You (2nd march), 我只在乎你 (I Only Care For You), 每天爱你多一些 (Love You More A Little Every Day), Endless Love, Quando Quando Quando, It Had To Be You, The Way You Look Tonight, 月亮代表我的心 (The Moon Represents My Heart), I Pledge My Love To You, Sway, Two Less Lonely People In The World


Song To Recommend:

I Pledge My Love by Herbs and Peaches - I've been a fan of Herbs and Peaches, and since their great hit 'Reunited' is unsuitable for weddings, I'm glad we have one here that fits the bill.


Wedding Tip:

Surprise your spouse! It will definitely be something you and your guests will remember for a long long time.