Hsin Yeow's thoughts: 爱爱 (Love, Love)
Ebelle and Jimmy wanted to celebrate their wedding at a unique location, and when they chanced upon
Ami's
at Sentosa, they knew they had found just the place.
The best thing about Ami's is that it overlooks the site where Songs Of The Sea is held.
Songs Of The Sea
is a live show that uses quite a lot of special effects, from pyrotechnics to water jets to brilliant lasers. The highlight of the show is, of course, the burst of fireworks that brighten up the sky.
(
Collapse
)
Matthew, Clarence and I enjoyed ourselves tremendously! We had some very appreciative guests, including three kids who were jumping around my stool and singing along with me. I was quite amazed when one kid, who looked no more than 10, knew the melody and words to
Nothing's Gonna Change My Love For You
(originally recorded by George Benson in 1984)!
The best thing about the wedding, in my opinion, was the fact that Ebelle and Jimmy really appreciated the presence of their family and friends. They spent a lot of their time walking around to chat with their guests, and told me they didn't even reserve a table for themselves because they wanted to be on their feet the whole time. They didn't lose their cool, even when there were some delays in the beginning. They even found some time for spontaneity. After Ebelle's thank-you speech, she turned to face Jimmy and suddenly burst out with, "Baby, I love you!" Jimmy quickly replied, "I love you too!" And they kissed. What a perfect moment!
P.S. It was great to see
Ivan and Adriana
again. In fact, they engaged us upon Ebelle and Jimmy's recommendation! When I first saw Adriana, I said, "Wow, I like the short 'do!"

With Adriana and Ivan
Band:
Hsin Yeow, Matthew, Clarence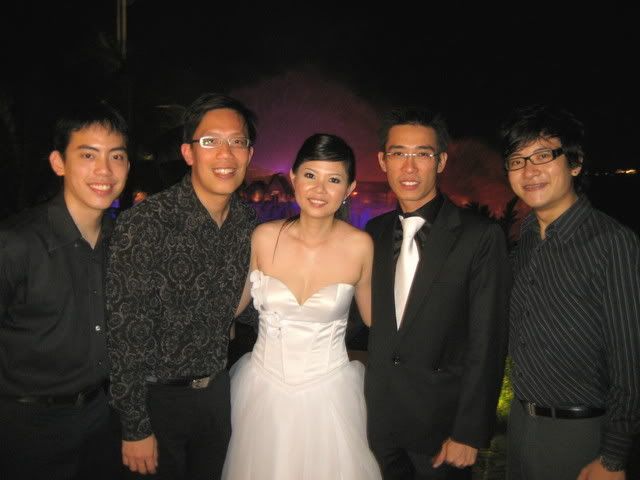 L-R: Matthew, Hsin Yeow, Ebelle, Jimmy, Clarence




Matthew and Clarence just chillin' before the performance
Repertoire:
Grow Old With You (1st march-in), Amazed, Can You Feel The Love Tonight, Everything I Do (I Do It For You), Everything, She, Wonderful Tonight, You Raise Me Up, If, My Cherie Amour, You Are The Sunshine Of My Life, Nothing's Gonna Change My Love For You, Come Fly With Me, Crazy Little Thing Called Love, Sway, 爱爱 (Love, Love), 爱很简单 (Love Is Very Simple), Fly Me To The Moon, You To Me Are Everything, 可爱的玫瑰花 (What A Lovely Rose)
Audience requests:
童话 (Fairytale), 月亮代表我的心 (The Moon Represents My Heart), 我只在乎你 (I Only Care About You)