Bevlyn's thoughts: 月亮代表我的心 (The Moon Represents My Heart)
Lin Sia is one of my best friends, and I was really ecstatic and relieved to finally see her tie the customary knots today. The couple got to know each other through diving activities in NTU 8 years ago, and I think other than the couple themselves, the next who were most thrilled were my girlfriends and me, because we were the 姊妹 (bridesmaids) and we were looking forward to make fun of Changxi.
Well well
To cut the long story short, we were all very touched by his 'come what may' attitude to get to his bride. The final blow to us was when he recounted how elated he felt when Lin Sia finally agreed to be his girlfriend on 2 Feb 2002 as he was walking her back from Lakeside MRT station. One of the brothers revealed to me he nearly teared :)
Lin Sia knew how hard Changxi had worked to prepare for the customary wedding (awkward pole-dancing, practising hard to sing 月亮代表我的心 (The Moon Represents My Heart) and drinking flavours no sane person would like),
she decided to sing a very meaningful song 约定 (Promise) during the wedding reception.
The fantastic lyrics goes:
你我约定难过的往事不许提 也答应永远都不让对方担心
要做快乐的自己 照顾自己 就算某天一个人孤寂

你我约定一争吵很快要喊停 也说好没有秘密彼此很透明
我会好好的爱你 傻傻爱你 不去计较公平不公平

Lin Sia singing a song for Changxi
The couple also presented their mothers with bouquets of flowers to show their appreciation. The icing on the cake was a song dedication 妈妈我爱你 (I Love You Mum), specially going out to the parents.
I also have to thank Lin Sia for requesting a song I've written (available in my upcoming EP album) titled
当我八十岁 (When I'm 80)
. It's the first time I'm singing this at a wedding, and I look forward to more! Clips of the song can be heard
here
.
(
Collapse
)
Lin Sia & Changxi, I wish you eternal bliss and prosperity!
Hsin Yeow's thoughts: You Are The Sunshine In My LifeChangxi thought of a novel way of proposing to Lin Sia, one which involved carpentry and yellow flora.
He wanted to pop the question in a romantic setting, so he created a wooden rack just for the occasion! It was waist-high with holes drilled into them, for Changxi to slot in ginormous sunflowers.
Changxi placed the structure in what seemed like the middle of a deserted field, so I was pretty sure Lin Sia had no inkling as to what awaited her. From the photographs I saw of her after she said yes, I have to say that her dazzling smile made even the most brilliant sunflower seem colourless.
Band:
Hsin Yeow, Bevlyn, Ein Ein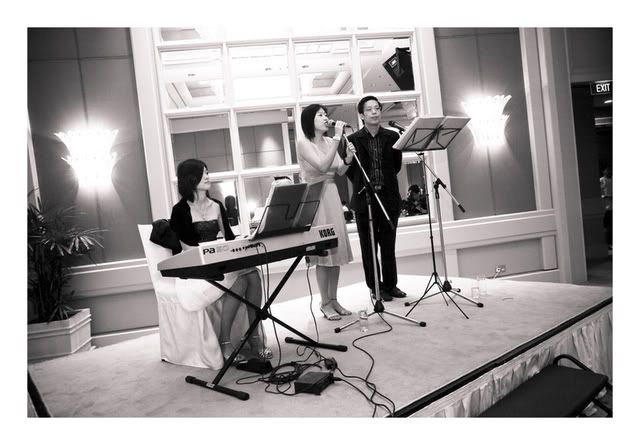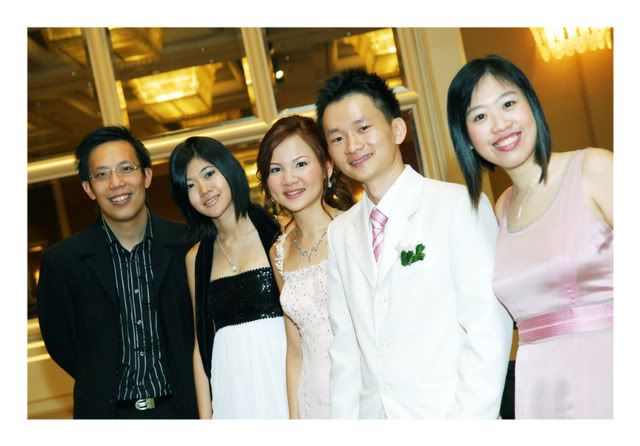 L-R: Hsin Yeow, Ein Ein, Lin Sia, Changxi, Bevlyn
Repertoire:
La Vie En Rose, 今天你要嫁给我 (You're Marrying Me Today), 我愿意 (I'm Willing), If I Never Knew You, The First The Last My Everything, Every Day I love You, You Raise Me Up, Wishin' And Hopin',
When You Tell Me That You Love Me
, Way Back Into Love, Two Words, At The Beginning, Longer, 月亮代表我的心 (The Moon Represents My Heart)
Your Love (Is The Greatest Gift Of All) (2nd march-in), 妈妈我爱你 (I Love You Mum), Everything, 每天爱你多一些 (Every Day I Love You More), 你的名字我的姓氏 (Your Name, My Surname), 无条件为你 (Loving You Unconditionally), Fallen, 当我八十岁 (When I'm 80), 永遠にどもに, 小夫妻 (Couple)
Songs To Recommend:
Apart from
当我八十岁 (When I'm 80)
, take a listen to
If I Never Knew You
, a fantastic song with great lyrics found in soundtrack of the movie
Pocahontas
.
And if I never knew you, I'd have lived my whole life through
Empty as the sky, never knowing why
Lost forever, if I never knew you
(Full lyrics here)
Wedding Tips:

- Sing a song for your husband
- Dedicate a song for your parents
- Plan a memorable proposal, and show pictures of it at your reception!