Hsin Yeow's thoughts: Destiny

Adriana and I met in 2001 when we were both preparing for our Final Year Project at Nanyang Polytechinc. We sat opposite each other. We clicked well and chatted frequently online.

After graduating, Adriana started her tussling with working life while I began my 6-year bond in the Army. We lost contact with each other as we fought to achieve our dreams.

As time passed, both of us realised that something was lacking in our lives, but we couldn't pin it down to what it was.

In 2004, I got hold of Adriana's contact again. When I recalled the fun-filled days we had before, I decided to give her a call to catch up.

I still remember the date when we met up again: 22 May 2004. We were surprised to find that the chemistry we shared was as strong as ever. Love blossomed from then on, and we started a serious relationship a month later.

On 22 May 2005, I went down on his knees with 99 roses and proposed. Today, on 7th Sept 2008, we will be pronounced husband and wife with all our close friends, relatives and family members as witness.

And the love story continues....

The wedding was a test of my hosting skills, as I needed to react quickly to technical issues that cropped up with the projector. Thankfully, our performance went smoothly without a hitch! The guests responded warmly to our performance, and made special requests! Congratulations Ivan and Adriana!




Thank you, AM.PM Photography, for sending me the photographs. You guys rock!



Band: Hsin Yeow, Hui Ming, Linus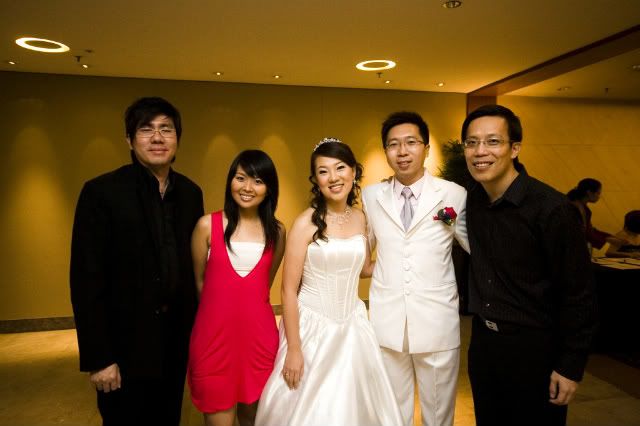 L-R: Linus, Hui Ming, Adriana, Ivan, Hsin Yeow



Repertoire:

She (1st March In), 爱爱 (First Dish), I Finally Found Someone, When I Fall In Love, You Light Up My Life, You Are So Beautiful, Love Me Tender, 今天你要嫁给我 (I'm Marrying You Today), 小手拉大手 (Small Hand Holding Big Hand), 选择 (Choice), 月亮代表我的心 (The Moon Represents My Heart)

Tonight I Celebrate My Love For You (2nd March In), 嫁给我 (Marry Me), Somewhere Out There, Beyond The Sea, Dream A Little Dream, 出嫁 (Getting Married), L-O-V-E, 你是我老婆 (You're My Wife), A Whole New World, My Girl, Can't Take My Eyes Off You

Audience requests:

一人一半 (One Half), 爱很简单 (Love Is Very Simple)


Song To Recommend:

爱爱 (Love, Love) - Only one word to describe this song: cute!




Compliments from Ivan and Adriana:

Hi Hsin Yeow,

It's a wonderful performance by you guys on our wedding night. The guests are full of praises for the singing. Thanks for leaving such a wonderful memory for us.

- Ivan & Adriana