Bevlyn's thoughts: 专属天使 (I'm Your Angel)

Waking up before the break of dawn to be one of the sisters for Lin Sia was one good reason why I need to use good mocha to energise myself till the end of the day - I have another wedding to do in the evening, for Michelle & Aloisius! By a stroke of luck, Michelle & Aloisius wanted more instrumental music to vocals, so I could take more rest in between songs *pat on Jonathan Lim's shoulders*.

When the band arrived, the couple was having their holy matrimony in the same ballroom, so we went into a nearby function room to jam the songs we were going to play later on - honestly it was fun to just tuck ourselves at the corner of the room while waiters and waitresses flew past us to get their bowls, tables, chairs etc.

The guests responded very well to the two Jons stirring up their instruments - keyboard and saxophone to the tunes of great classics. We were flattered when we got requests from the guests for Smoke Gets In Your Eyes, Jasmine Flower (Kenny G) and If I Ain't Got You - this usually serves as a good indication that we have reached out to our audience.

It was my first time singing 专属天使 (I'm Your Angel) and Inside Your Heaven. Though these 2 songs are considered recent hits, it was only through singing them that made me realised just how good they are.

When we finished our performance, we were also trying to find the couple who was lost in the sea of guests. I spotted Michelle at one end of the ballroom talking to some friends, but I couldn't find Aloisius; not for the bride - with one quick sweep, she quickly located him at the other end of the ballroom, also seated talking to his friends.

Thank you for having us at your wedding Michelle & Aloisius. We were really flattered and may this only marks the start of a blooming love for each other!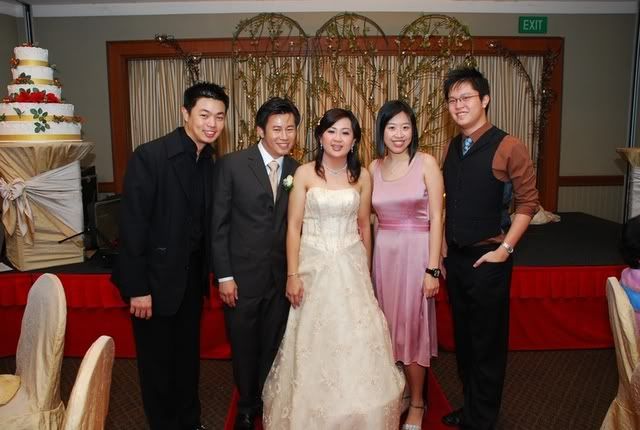 Band: Bevlyn, Jonathan Ang, Jonathan Lim


Repertoire:

I Do (Cherish You) (1st march-in), Fallen, Fly Me To The Moon, Just The Way You Are, The Way You Look Tonight, 月亮代表我的心 (The Moon Represents My Heart), Lost In Your Eyes, Nothing's Gonna Change My Love for You, Wonderful Tonight, L-O-V-E

爱很简单 (Love Is Very Simple) (2nd March-in), 就是爱你 (Just Loving You), Love Is All Around, 专属天使 (I'm Your Angel), Save the Last Dance For Me, I've Got You Under My Skin, 我愿意 (I'm Willing), Can't Help Falling In Love, Fever, Inside Your Heaven, Moondance, Like a Rose, I Swear


Compliments From the Couple:

We are real thankful to have you guys singing for us. I can tell you that not one, nor two, but at least two dozen or so of our guests complimented that you guys were fantastic, though in my planning, I forgot to add in one selection for my mum... oops!

But still, it was enjoyable! I do apologise that the planning wasn't perfect for you guys, but thank you for being so understanding & accommodating to us. Both Aloisius & myself really loved the music and I can tell you, we'll make sure that we'll recommend you to our friends, in fact, we do know of a couple that has already engaged you guys for performance for their wedding in March!

Bevlyn, thank you so much, do help us thank both Jonathans & Hsin Yeow too! For Hsin Yeow had defintely helped us lots in the planning process.

May 2008 be not just a wonderful year, but a blessed year to one & all from A Little Dream!!

Aloisius & Michelle